After Further Review …
August 7th, 2011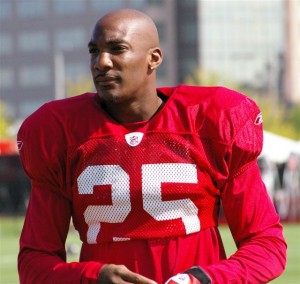 Maybe Joe should be less sensitive and more understanding of those in the media who work so hard to finger Aqib Talib as guilty and destined for a suspension.
But frankly, it drives Joe insane. Joe doesn't get it. And Joe can't let it go.
The following two paragraphs appeared in a Rick Stroud beat notebook on TampaBay.com Saturday night: Read it and then Joe will break it down.
Waiting for discipline: Despite the rhetoric coming from the Bucs, they expect commissioner Roger Goodell to levy harsh punishments to the handful of players who violated the personal conduct policy during the lockout.

That includes CB Aqib Talib, whose trial on charges of assault with a deadly weapon has been moved to March 2012. The hope is Goodell will wait until Talib has his day in court and allow for the presumption of innocence.
In the first paragraph from Stroud, he tells us the Bucs are saying one thing but believe another. Why not just call the team a bunch of lying spin masters and get it over with. That aside, it's a setup to labeling Talib guilty of breaking league rules by saying the Bucs lump Talib among players that violated the league conduct policy during the lockout.
Really? Does anyone of sound mind and body believe the suits at One Buc Palace really consider Talib guilty?
Surely these high-ranking men studied the only available information about Talib's assault with a deadly weapon case — it's all right here for you — and walked away wondering whether Talib even used a gun or broke any law, let alone violated a nebulous league policy enforced by a power hungry hatchetman commissioner. 
In a nutshell, Stroud's latest here on the Talib beat is misleading. Not as misleading as reporting a super secret source at One Buc Palace said the Bucs have already decided to cut Talib, but a gadget play nonetheless.