A Great 2011 Might Hurt Talib
August 5th, 2011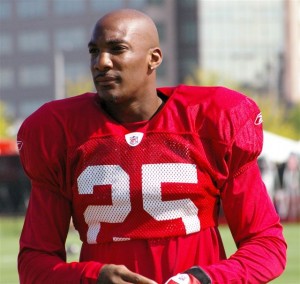 Joe made the case yesterday that Aqib Talib is a not a player hatchetman commissioner Roger Goodell cares much about because Talib is little known on the national stage, therefore his transgressions, and alleged trangressions, are not a priority.
Some think the hatchetman will suspend Talib this season before his trial in Texas. Joe would be stunned if that happened.
Today, Mike Florio, creator, curator and overall guru at ProFootballTalk.com, launched a similar take saying Goodell's discipline is subjective public relations more than anything else.
How else can anyone reconcile the fact that Steelers quarterback Ben Roethlisberger was suspended six games despite never been arrested or charged for sexual assault, and yet Broncos cornerback Perrish Cox continues to practice and play despite facing two years to life based on specific, detailed, and troubling allegations that he raped and impregnated a woman who had passed out at his apartment?

If Roethlisberger had allegedly done what Cox had allegedly done, the lockout wouldn't have ended.  For Roethlisberger.
Following Florio's logic, a strong season by Talib this year certainly enhances Talib's chances of garnering a stiff punishment from the justice-be-damned commissioner. If the Bucs make the playoffs and Talib picks Peyton Manning twice on Monday Night Football, all of a sudden Goodell probably will feel like he must flash his testicles and crack down on Talib regardless of what the Texas courts say next year.
What a way to run a league.