Wild Week Ahead
July 25th, 2011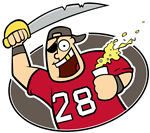 Joe wants to take a moment to welcome readers new and old to his not-so-humble home on the Internet.
Joe sees his traffic meter reaching new heights today, plus bile, fury and excitement brewing in the comments. The end of the asinine lockout has brought back some familiar names and Joe has approved many new posters.
As the post-lockout insanity takes its full form Tuesday, with teams signing undrafted free agents, Joe just wants to let it be known that Joe reports a hell of a lot here, but ultimately Joe only fires off what he finds interesting. And that's not every last snoozer of a transaction.
But Joe will be break his ass to bring you all things Bucs, including intriguing information on undrafted free agents — Joe's already started — and especially when it comes to restricted and unrestricted free agency (starting Friday) and training camp (also starting Friday), and all the usual pile of diverse stuff delivered here.
Joe doesn't sleep.
The next week will be unprecedented in NFL history, and Joe expects it will result in its share of theatrics right on JoeBucsFan.com.
Welcome, 2011.