"We'll Be Taking Our Own Players Out To Dinner"
July 26th, 2011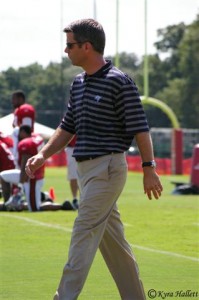 No surprise that rockstar general manager didn't stray far from his we-take-care-of-our-own mantra during his afternoon press conference today.
Dominik didn't engage in much that would make anyone listening believe the Bucs would be players for big-name free agents. (Sorry, Nnamdi-lovers.) Of course, that could change quickly. But still, that was Dominik's tone.
The GM even went so far to say that he is eager to wine and woo the Bucs' homegrown free agents because they deserve it. Though Barrett Ruud sure didn't seem to be in the club.
"We'll be taking our own players out to dinner," Dominik said.
Bucs icon Ronde Barber wasn't the least bit surprised, so he told J.P. Peterson this afternoon on 1010 AM. Per Barber, the Bucs don't roll any other way.
"I've been here 15 years and we've never been overactive players in free agency," Barber said.
Given the apparent likelihood of Ruud being gone, Joe's wondering whether Davin Joseph was really serious when he said a factor in his decision in free agency would be whether guys like Ruud, Jeremy Trueblood and others returned to the Bucs.
Joe highly doubts that.