This Time It's Real: Davin Joseph, Bucs Agree
July 28th, 2011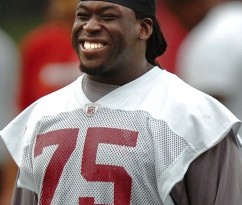 Despite a few outlets jumping the gun a bit — not that the outcome was unreasonable — this time it's real:
Davin Joseph and the Bucs have agreed on a new contract.
Per Joe's good friend, "The Big Dog," Steve Duemig's Twitter timeline, Joseph and the Bucs have a handshake deal that Joseph will sign Friday.
And what is the widely popular WDAE-AM 620 personality's source you ask? Why Joseph himself.
The agreed upon deal, per Duemig (via Joseph) is seven years for a cool $53 million.
So much for the haters who claim Dominik blew off all winter in not preparing his team of accountants to meet a salary floor.
Com'on, people.
UPDATE: How quick was Duemig's reporting? He made it public before Joseph himself had a chance to Twitter it.
UPDATE II: Jeremy Trueblood agreed to a two-year deal.