There's A New 91 In Town
July 28th, 2011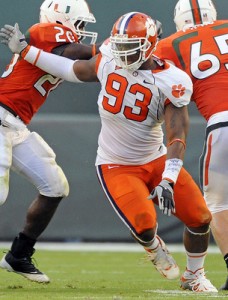 Woe is Stylez White. The Bucs' sack leader over the past four seasons now has a rookie wearing his number. There's a bad sign, or a good sign, depending on your perspective.
The guy now with No. 91 is manbeast-in-waiting Da'Quan Bowers, who passed his physical days ago, in case you were wondering.
Joe's not bashing Stylez here. The guy was a top-flight backup with a great personal story. He just didn't deliver like he needed to in 2010.
Amazing when you think about the razor thin success-failure game in the NFL. Stylez had 4 1/2 sacks last year. If luck/fate breaks a little more his way and he had, say, seven sacks, he likely would be entertaining plenty of offers right now. But it seems the opposite is true, so Joe documented earlier today.
Regardless, there's a new No. 91 to cheer, and he's probably the biggest X factor in the Bucs' lineup.