Scary Moments At Training Camp
July 29th, 2011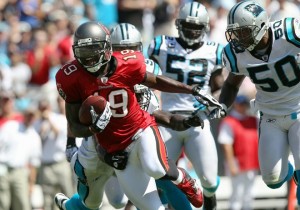 Joe's broiling at Bucs training camp and now chatting with players as practice has broken, but not before a chilling hush came over all here at opening day.
Mike Williams was carted off the field.
Of course, there's not hitting going on at all, so the hope is Williams has a cramp or something minor like that.
Maybe training too much in the cool confines of his hometown in Buffalo didn't prepare him for the swelter. … Joe can only hope.
Much more from tonight's first public practice later.
Update 7:41: The Bucs have informed the media Williams merely cramped up. Whew!