Potential Legal Mess If Talib Punished
July 18th, 2011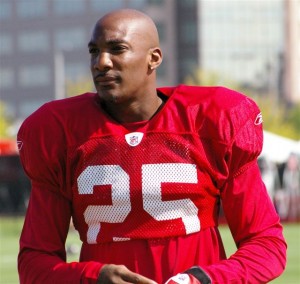 Players are locked out, yet NFL commisioner/hatchetman Roger Goodell has longed claimed he'll hold players accountable to the league conduct policy during the lockout. That means he's crack down on alleged offenders whenever the labor mess ends.
It's the NFL version of dumping your girlfriend and then getting mad her because she was naked in a hot tub with some dude the following night.
Months ago, after Aqib Talib was arrested, Joe talked to a Florida employment lawyer to see if such a move by the NFL could be legal. The attorney gave Joe so many annoying hypothetical scenarios, it was too much to sift through to present simply here. But the overall take from the attorney was that the league didn't have a stong leg to stand on.
Lawyer and NFL guru Mike Florio, creator ProFootballTalk.com, dives into this point today. Florio, a master at boiling down the boring legal mess of the lockout, isn't seeing how the NFL and the allegedly disbanded players association can get away with punishing players that stepped out of line since early March.
But we'll have trouble understanding any understanding that allows the NFL to punish players for arrests occurring during the lockout.  Indeed, a decision by the NFLPA* to expose players retroactively to responsibility for violations of the personal conduct policy could open the door for a fairly potent lawsuit alleging breach of the duty of fair representation, which could open a fairly significant can of worms given that the labor deal will have been negotiated at a time when, technically, the NFLPA* has the power to represent no one.
Common sense applies to Florio's take. How could the players (non) association negotiate punishments for its members when they're not being represented? Then there's still the matter of Goodell playing dictator when he's closed the door on the players, who are currently without benefits and other terms of their employment.
Joe suspects the legal issues here all but seal that Talib's situation won't be addressed by the league until it's resolved fully by the courts. After that happens, Goodell or the Bucs can always find some sort of loophole to punish Talib, if he doesn't walk away cleanly from the charges.