Mark Dominik Isn't "Dumb"
July 28th, 2011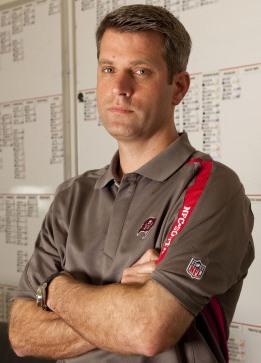 In recent days, Joe has been totally bombed with questions about Bucs rock star general manager Mark Dominik spending money.
Why?
People are totally obsessed with this topic and Joe is at a loss to figure out why.
As Joe has often answered, Joe does not care about the salary cap. Joe thinks about the salary cap about as much as he thinks about a nude Rosie O'Donnell, which is to say unless someone asks Joe about the salary cap, it never crosses Joe's mind.
Joe is not an accountant. He's a football guy, not a numbers guy. Dollars do not equate to wins in the NFL. They just don't. If anything, fans would want Dominik to pay less. The Bucs got 10 wins and lost a playoff tiebreaker and had one of the lower payrolls in the NFL.
If Joe was so worried about dollars, he'd watch Jim Cramer.
Apparently Joe's good friend Justin Pawlowski of WDAE-AM 620 is getting hounded by people who can't sleep wondering if Dominik will make it rain. Pawlowski lashed out at Dominik's critics on his Twitter account.
@Commish620wdae Does everyone think that Mark Dominik is dumb and won't spend enough to get to the floor which would end with fines and loss of draft picks? … Hmmm, would a team and GM that prides itself in building through the draft risk losing draft picks? I think not. … Everyone bitched about Bruce allen lying, but when Mark Dominik tells truth that #Bucs are building through the draft, people get mad too. … There's much more to building a team than "just spend the money" … I think the #Bucs already have the big names people want to see, but they won't become big names until we get into this season!
Joe couldn't have written it better himself. Sans possibly having a rookie linebacker playing out of position calling defensive plays, has Dominik done anything the past 18 months that would suggest he doesn't know what he is doing?
If fans are bent because Dominik isn't playing fantasy football, may Joe suggest following the Redskins or perhaps the Cowboys? Danny Snyder and Jerry Jones never met a big-name splash they didn't like. How's that worked out for them the past 15 years or so?
And no, once again, Joe doesn't care about the salary cap. Joe's the last guy to ask about it because he doesn't give a damn.
Those that thought that a high salary floor meant Dominik would run wild in free agency clearly haven't been following the man in recent months. Dominik doesn't roll like that.