"Lots Of Questions" With Bucs Defense
July 12th, 2011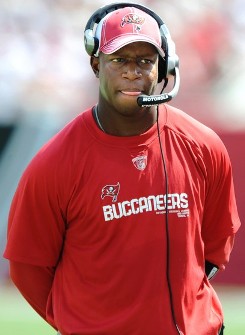 The Bucs came "this close" to the playoffs last season, losing in a playoff tiebreaker to the eventual Super Bowl champion Packers, a fact not lost on Josh Freeman.
Some pundits believe the Bucs have a shot not to just make the playoffs, but to make a run in the playoffs if only the defense can improve. eye-RAH! Kaufman isn't convinced that improvement will happen overnight.
The longtime NFL columnist for the Tampa Tribune spoke on WHBO-AM 1040 Monday afternoon with "Prime Time' co-hosts Ronnie Lane and Tom Krasniqi, explaining the many areas on the Bucs defense that he finds lacking.
"When was the last time we had more confidence in the Bucs offense than the defense?" Kaufman asked. "There are a lot of questions on this defense. They can't stop the run. There's no pass rush. Now you are asking two rookies with health issues to make an impact? That's asking a lot.
"Gerald McCoy is fine. Brian Price is not looking good for this season. Roy Miller has something to prove. For every disruptive play Geno Hayes makes, he takes a bad angle. There are are real questions about this defense.
"I believe Talib will face some kind of punishment, even with his trial postponed to next year. Let's face facts: The Bucs have not been able to stop the run with Raheem in
charge of the defense the past two years and with Barrett Ruud as the middle linebacker.
"At some point, you run out of things to say."
All are valid points from Kaufman. But call Joe naive but he believes the defensive front will be much improved, if for no other reason they will have decent coaching with Keith Millard, something GMC and Miller haven't had since both became Bucs. That very well could be a domino effect: Better play up front means better linebacker play, etc.
And even if Talib is suspended — clearly, not a given — Joe has considerable confidence in E.J. Biggers
Yes, the Bucs do have question marks on defense. But it's difficult to see the defense regressing.