"Taking A Beating From Their Fans"
July 1st, 2011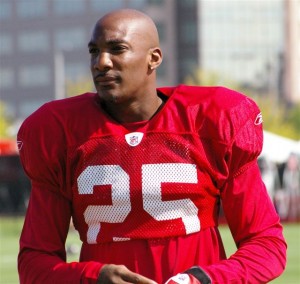 It's more than fair to say that Joe has his finger on the pulse of the Bucs fan base. Joe interacts with fans daily and spends far too much of his life pounding out Bucs news and commentary on these pages.
So Joe was taken back a bit by the harsh words from NFC South blogger Pat Yasinskas in regards to the ongoing Aqib Talib saga. (Joe wrote about the latest on Talib earlier.)
Yasinskas is clear that he thinks the Bucs organization has absorbed a beating from its fans because of displays of bad character off the field.
Talib is one of their most talented players when he's focused on football. But the Bucs have had a series of off-field problems over the past year or so and that's led to them taking a beating from their fans about character. They could make a big statement in that area by releasing or trading Talib. But, if the legal system and the NFL aren't going to sideline Talib, the Bucs might be hesitant to take any action.
Joe has to disagree. The Bucs have taken a beating about character from many in the media — Joe included when it came to King of Turds Jerramy Stevens — but hardly from fans. Now one could make the argument that fans have shown their alleged frustration about the team's character at the box office, but Joe thinks that would be ridiculously misguided.
But Joe will ask his readers: Have you, the fan, issued the Bucs "a beating" for the character of players and staff in the organization?