Brooks Relying On "Trusted Guns"
July 21st, 2011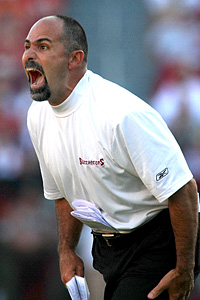 Transitioning from the field to the front office as a talent evaluator ain't that easy. Even the great Derrick Brooks had his share of challenges in that area when he took over the Tampa Bay Storm this year.
Joe found that claim to be an interesting nugget, as Brooks explained on The Dan Sileo Show on WDAE-AM 620 Monday. Brooks painted a picture of himself in a foreign role despite years of experience watching film.
"When I first started [evaluating players on tape], I was studying as if I was in a player's perspective," Brooks said. "It's a different style of watching type. I had to call on trusted guns of mine in the past. I had to ask for some more expertise from the likes of Bruce Allen, Coach Dungy, Lovie Smith, Jon Gruden, even Rich Bisaccia. He's been a big help to me as far as how do I set that up and what is my evaluation system as I move forward. I get better at that every day."
Bruce Allen? Joe sure hopes Bruce Almighty was helping No. 55 in the system aspect of evaluation, rather than anything to do with the action on the field.
One reason Joe found Brooks' comments particularly interesting is because of the disagreement and fury surrounding the evaluation of Barrett Ruud's value. How Mark Dominik and Raheem Morris perceive and assess Ruud's value is likely to be very different from players' and fans' takes.