Barrett Ruud Is No Erv Randle
July 21st, 2011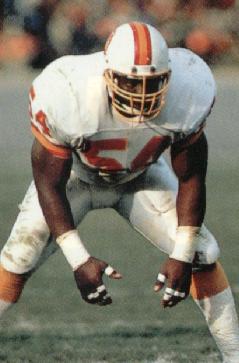 Flying solo on the popular Ron and Ian Show on WDAE-AM 620 yesterday, former Bucs guard Ian Beckles did his best to tell every listener from Tallahassee to Orlando and down to Charlotte County that Barrett Ruud is softer than soft.
The three-hour show felt at times like a Ruud special.
In a classic interchange with a caller who started saying Ruud is no Ray Lewis or Brian Urlacher in his physicality, Beckles immediately cut off the caller to implore him to "start from the bottom," not from the top with the superstar linebackers when making comparisons to Ruud.
Beckles called Ruud "the least physical linebacker in the league." He went on to say Ruud is actually a step below the least physical linebackers at his position, and Beckles longed not for legendary linebackers of Bucs past, but simply for a guy like his former teammate Ervin Randle, who had an nondescript career with the Bucs from 1985-1990.
"I just want an aggressive middle linebacker. It's not rocket science," Beckles barked. "You can't jump around a block. … Stick your head in the hole. …Stop running backwards."
Beckles continued to beg anyone to sit down and watch film with him to show him why Ruud is a good middle linebacker. And Beckles repeated that none of the people connected to the Bucs he has spoken to privately has ever disagreed with him about Ruud.
As Joe has written before, we're all going to find out real soon what Mark Dominik and his colleagues around the NFL think about No. 51.