Back In Black
July 27th, 2011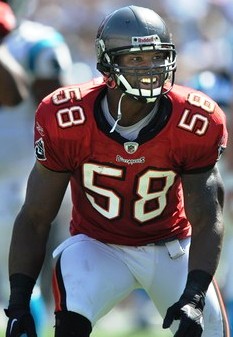 Hey, look, Bucs rock star general manager Mark Dominik came to an agreement — can't sign until Friday — with one of his own linebackers.
But no. It is not Barrett Ruud, it is Quincy Black.
Per Woody Cummings of the Tampa Tribune, and his cohort Anwar Richardson, they Twittered Black came to terms with the Bucs today.
Bucs LB Quincy Black is back in the fold in Tampa. Five-year, $29 million deal with $11.5 million guaranteed.
Now in Joe's eyes, Black has to step it up. Far too often Black was heard of as being in the starting lineup, but not seen (making plays). With a potential rookie middle linebacker starting, it is Black who has to be a leader and starting racking up some big time plays.