Williams Battling Before Minicamp
June 27th, 2011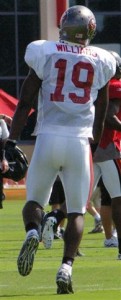 Plenty of Bucs fans probably forgot, or never knew, that wide receiver Mike Williams was courted to play basketball for Syracuse University.
Yes, before realizing he was 100 percent football star his freshman year at Syracuse, Williams thought he might be the next Louis Orr, Billy Owens, Rafael Addison, Carmelo Anthony, or another sharpshooter from Orangemen past.
It seems Williams still has his love of hoops in tact after playing in a major 3-on-3 tournament over the weekend in Buffalo.
Still, it was a shocking sight Saturday when Williams, the star wide receiver for the Tampa Bay Buccaneers, fired jumpers, battled for body position and accidentally bloodied another player with an elbow during a top men's division game with the South Buffalo Celtics.

It wasn't planned.

Williams was supposed to be coaching the team for a friend, but when his big man failed to show up — Williams pulled a Bill Russell.

"I couldn't leave my team hanging so I went in there," said Williams, who caught a team-leading 11 touchdowns and averaged 14.8 yards per catch on 65 receptions as an NFL rookie in 2010. "A lot of people were screaming Mike Williams on the sidelines so it feels good to be back home."
This kind of stuff scares the crap out of Joe. To have a guy the Bucs need on the field for opening day (hopefully) in September banging on the basketball court with an NFL-player target on his back is risky. An ankle sprain at this time of year could plague him all season.
Joe will be much more at peace seeing Williams at Josh Freeman's minicamp tomorrow running routes and lifting weights.
He's one of the last guys the Bucs can afford to lose to injury.