Updates Coming From Players' Minicamp
June 28th, 2011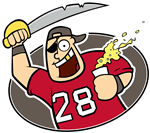 Most Buccaneers are scheduled to take to the practice field in Bradenton today and, barring Joe keeling over from the excitement of actually seeing glorious football again, Joe will bring you all kinds of nuggets and information from camp.
Led by Josh Freeman, the Bucs' effort today kicks off a three-day, players-only minicamp, courtesy of the asinine lockout. 
So it would be wise to check back to JoeBucsFan.com this afternoon, tonight, and all through the week. If you don't yet follow Joe on Twitter, then this is probably a good time to start.