"Those Who Aren't Here Will Have To Catch Up"
June 28th, 2011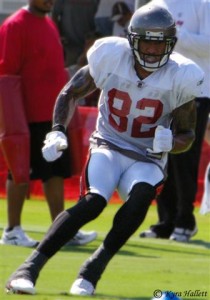 Don't think for a second that the Bucs players practicing here in Bradenton today are doing this for show or think it's just an effort-free, coach-free exercise.
Kellen Winslow issued some hard words to Joe about the meaning of the three-day minicamp.
"Those who aren't here will have to catch up," Winslow said.
Asked if that will be difficult for those absent, Winslow said, "We all will have to catch up. This is just [the equivalent of] walking. … "You can lift weights all you want. I have to run routes."
Make no mistake. The Bucs receivers here are running routes. But Winslow's point is well taken. There's no substitute for the learning and pressure of training under the watchful eye of coaches.