Tanard With Talib, And More
June 29th, 2011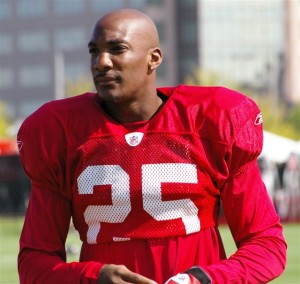 Just a quick morning update from the thankfully cloud-covered Bucs players-only minicamp in Bradenton today. 
Pals Tanard Jackson and Aqib Talib walked onto the field together earlier. Joe will have a photo later. Anybody got a caption?
Jackson, per BSPN.com, can be with the team during the lockout but once it's over it's right back to excommunicated status until he's reinstated by NFL hatchetman Roger Goodell.
Speaking of the hatchetman, he's here with DeMaurice Smith, first buzzing around on a golf cart and now watching practice.
Of course, you'd already know most of this if you followed Joe on Twitter.