Talib Attorney Updates Case
June 17th, 2011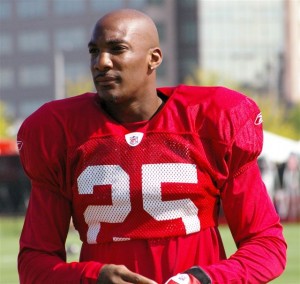 Welcome to the backlogged justice system.
To date, per Aqib Talib's attorney Frank Perez, the Dallas County prosecutor assigned to Talib's felony aggravated assault with a deadly weapon case hasn't had time to review the defense's evidence. Nothing happened during yesterday's scheduled talks, Perez told JoeBucsFan.com, and there have yet to be any substantive talks towards a reduced charge and plea agreement for Talib.
Perez said this kind of backlog is very typical in Dallas. Talib has not entered a plea.
While the State of Texas may be bogged down, Talib's lawyers continue to work on Talib's behalf investigating, and interviewing witnesses and people close to the situation. Perez said his legal team has yet to talk to anyone that says Talib was using a gun at the scene.
Perez said he is very eager for the State to review the defense's documentation and his confidence has grown with recent information obtained regarding the alleged victim in the case, Shannon Billings, Talib's sister's boyfriend/husband.
"At this point, I'd rather go to trial," Perez said. "But first we have to have substantive talks" regarding a deal or dropping charges.
From Joe's research, since there apparently were no injuries to the alleged victim, if the State dropped the gun charge it could reduce Talib's charge to a Class C misdemeanor assault, which carries no jail time and a fine up to $500.