Gerald McCoy On Verge Of Stardom
June 4th, 2011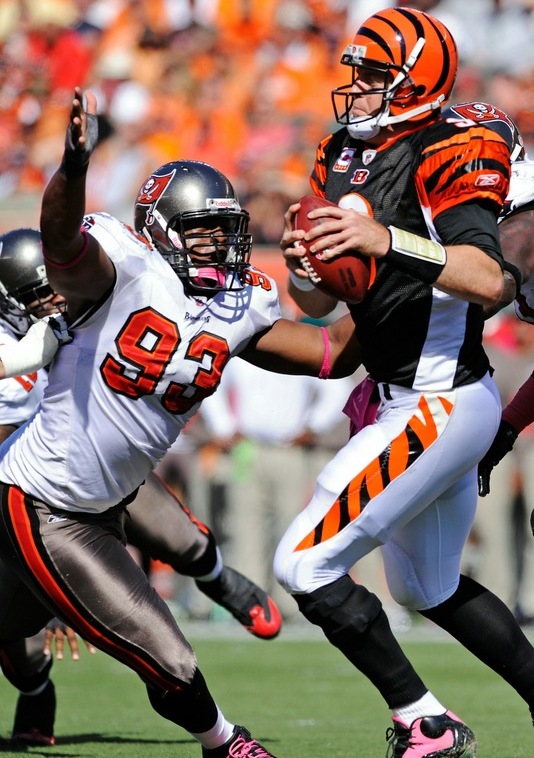 Clearly spending a No. 3 overall pick on Gerald McCoy, the Bucs have high hopes for the defensive tackle, even though his rookie season was not something to write home about.
Only the unbalanced expect a rookie defensive tackle to shine. Yes, manbeast Ndamukong Suh is a rare player, a once in a generation type of player. Remember, even Warren Sapp was largely invisible his rookie year.
When GMC began tuning out former defensive line coach Todd Wash midway through the season, his numbers shockingly began to rise until he blew out a biceps, ending his season.
Matt Williamson of Scouts Inc. is of the mind that GMC will soon become a disruptive force in the NFL.
The transition to the NFL is difficult for many rookie defensive tackles, in large part because they can no longer whip most players across from them with raw natural ability the way they did in college. McCoy has physical gifts but took some time to learn patience and to read and feel blocking schemes before his injury, and he is still a work in progress from that standpoint, but he did record four sacks in the last three games he played in 2010.

Overall, though, he is one of the quickest, most explosive and most athletic defensive tackles in the league. McCoy has a long linear build that should gradually fill out over the next few years, better enabling him to deal with the double teams and extra attention that he is sure to attract, and taking on multiple blockers will free up his teammates to get to the ball. McCoy has the ability to disrupt on his own and make the players around him better, which is exactly what you want from a 3-technique in a 4-3 defense.
Toward the end of the 2011 season — if there is a season — will be telling for GMC, Joe believes. He has a new defensive line coach, Keith Millard, hand-picked by Sapp himself.
If Millard is that good, and GMC has adapted to handling and recognizing NFL blocking schemes, there should be a marked turnaround.