Donald Penn = Mentor
June 23rd, 2011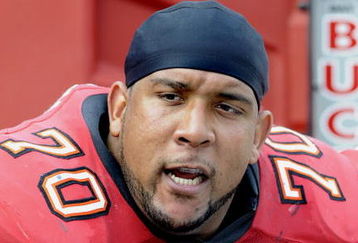 Donald Penn may not be Jenny Craig when it comes to diet advice, but the Bucs' stud left tackle doesn't hesitate to teach young offensive linemen the ropes.
Speaking on the Ron and Ian Show today on WDAE-AM 620, Bucs guard James Lee said his time backing up Penn in previous seasons got him on track to jump in and make everyone forget about Jeremy Trueblood in 2010.
"Being behind Donald Penn for the first two years, he kind of prepped me," Lee said. "I learned a lot from him. My situation is somewhat that we were in the same situation. He told me just, 'Every week you have to prepare like you're going to start. You never know. Something may happen Saturday night or Sunday morning.' … If you do [start], hey, that's the bonus. But, you know, it's all in the preparation. Each week I prepare to start. It so happened in that [Rams] game I didn't start but I ended up going in. It's just a blessing. And Donald, he helped me prepare for that moment."
Hearing this got Joe thinking about when Penn explained to Joe that he sacrificed his game for the sake of covering for Ted Larsen, when he was thrust into the Bucs' starting lineup last year.
Joe's hopes Penn can run his consecutive game streak to 76 this season. Joe trembles thinking of what might happen if Penn went down.