Could Bucs Defensive Line Surpass Lions'?
June 16th, 2011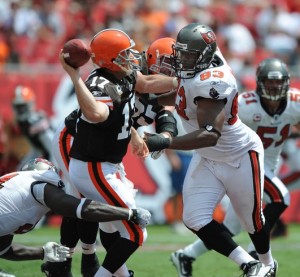 A Bucs caller decided to pepper the co-hosts of "The Opening Drive," Peter King and Ross Tucker, heard exclusively on SiriusXM NFL Radio this morning about defensive lines, specifically the Bucs' and the Lions'.
Said caller believed the Lions are getting way too much run for their defensive line when the Bucs could very well have a chance to have a stronger defensive line.
Tucker did not agree in any way and King sort of understood where the caller came from but wasn't ready to agree.
Ross Tucker: Yeah, the Bucs have invested a lot of resources over the years but none of the guys have really done much. Brian Price was hurt. Gerald McCoy had an avearage year. Adrian Clayborn and Da'Quan Bowers, the jury is still out. Now Detroit, Ndamukong Suh was a dominant force as was Kyle Vanden Bosch, he was solid. Cliff Avril is one of the mos underrated defensive ends and Nick Fairley some thought he was a top-five or a top-eight pick.

Peter King: Imagine a trio, a rotation trio at defensive tackle, with Corey Williams who is an above average nose guy, Ndamukong Suh and Fairley with Suh and Fairley in there on passing downs. I don't know you will block those two with two or even three players. The Lions will be a load. I'm not saying the caller was wrong. The Bucs have a chance to be a load too. Both play in a tough division. I can see the Saints or the Falcons going deep in the playoffs just like I can see the Bears or the Packers going deep into the playoffs. I think the Lions have a chance to make a lot of noise. If Matt Stafford is healthy, they have a chance to do some very surprising things.
The key with the Bucs will be how quickly Bowers and Clayborn develop. If those guys are able to bring heat from the edge, that takes pressure off the Bucs defensive tackles. It would be a domino effect.
If Bowers and/or Clayborn are able to bring it, GMC will blow up.