Cody Grimm Running, Drenched
June 28th, 2011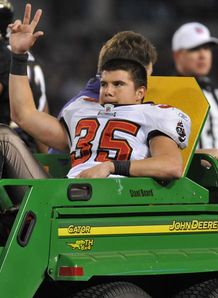 Kareem Huggins, Brian Price and Arellious Benn are among the injured Bucs here at today's minicamp in Bradenton but they're on the sidelines nursing injuries, Tampa Tribune beat writer Roy Cummings reported moments ago.
But there are some banged up Bucs pushing it on the field. Cody Grimm is one of them. His broken leg seems to be a problem of the past, which should bring smiles to Bucs fans.
"I'm sweating. I'm not used to running much, " Grimm said as he had his beige baseball cap on backwards dripping with sweat trying to catch his breath.
It seems Tanard Jackson is supposed to be here, as well. And with the Bucs drafting two defensive backs, perhaps Grimm wants to make extra sure he's in top form when the asinine lockout is over.