Clayborn Is Shedding Weight
June 6th, 2011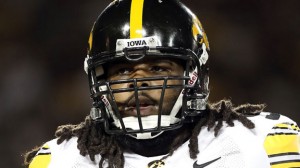 The Bucs' first-round pick, manbeast defensive end Adrian Clayborn, continues to tour the local radio airwaves and returned to the Buccaneers' flagship station today on The Ron and Ian Show, co-hosted by former Bucs guard Ian Beckles on WDAE-AM 620.
Beckles and Clayborn had an exchange about adapting to the NFL when Beckles seemed to assume Clayborn would be trying to add weight to his frame, which was 6-3, 281 pounds at the scouting combine.
Clayborn set him straight.
Ian Beckles: You're probably going to have to change it up a lot because that bull rush is going to get old about the second quarter because you're playing against 350 pound men. Have [the Bucs] said anything to you about your weight. You're listed here at 281. Do they want you to come at that weight or maybe a little bit heavier?

Adrian Clayborn: Oh, no. I'm getting down a little bit more. I'm at 278 right now. I trying to get down at least to 275 by training camp. I've heard horror stories about losing weight [at training camp], but I don't think I'll have any problem with that.
Joe's not sure what to make of Clayborn looking to drop weight entering training camp. Perhaps the Bucs and other NFL teams at the combine told him they wanted to see him add speed.
It's only six pounds in Clayborn's case, which is probably meaningless.  … Or not.
Regardless, Clayborn will have his hands full in practice with Donald Penn lined up in front of him and chewing his ear off.