Bucs Want Raheem To "Throttle It Back?"
June 29th, 2011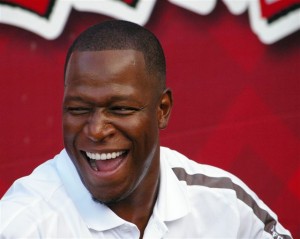 Joe considers Raheem Morris an absolute gem of a speaker. He's passionate, and compared to his head coach peers, never-boring Raheem lets it all hang out at times and then some.
The guy's priceless. He makes fans laugh and gets them fired up all at the same time, all while simply being real.
Plus he often gives a lot of good Xs and Os answers for those paying attention. No wonder the guy's a rockstar around town.
Today, NFC South blogger Pat Yasinskas even awarded Raheem an accolade for best postgame interview in a post on BSPN.com.
Best postgame interview: Raheem Morris. The Bucs' head coach is animated and doesn't hold much back. There are some in the organization who wish Morris would throttle it back a bit. But, from a media standpoint, there's not another NFC South coach who is nearly as good a quote as Morris. There aren't too many coaches around the rest of the NFL who are in his league.
Whoa!
Joe was taken back reading Yasinskas' unsourced claim that some important people at One Buc Palace want Raheem to "throttle it back" and fire off more coachspeak. Joe doesn't want to believe it.
Don't do it, Raheem!
Keep being your best self. It's working.