Bucs Players Should Hold A Fan Fest
June 3rd, 2011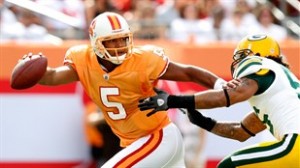 Although nothing has officially been announced, there likely will not be a Bucs Fan Fest this year, thanks to this asinine lockout railroaded upon innocent NFL fans by NFL strongman Roger Goodell.
Of course, this could all change at a moment's notice as it has become all too apparent in recent months to Joe that to try to gauge how a judge will rule is like trying to guess the color negligee Rachel Watson is wearing on a given day.
Now the Bucs were working out at  … Joe's not saying, but video star Anwar Richardson of the Tampa Tribune and workaholic Stephen Holder of the St. Petersburg Times found out where and it was enough to chase Josh Freeman, leader of the Bucs and organizer of the workouts, to seek a new, private location.
(Column intermission: Speaking of Holder, last Friday afternoon Holder went off on a shocking, emotional rant on Twitter, which was partially if not fully directed at Joe for the Jeff Faine/workouts issue. Holder chastised "bloggers with too much time on their hands" with "starting fake controversies." Read: "Jack Sheppard chewed my arse out because I wasn't on top of the story and I have to find a scapegoat." Also, if the Faine issue was so "fake" as Holder stated, how was it his own paper and fellow colleagues were knee-deep in it quoting Faine initially on the subject and later running his letter of apology? If this issue was "fake" as Holder would have Bucs fans believe, then his own employer was running fiction stories as well.
As for "bloggers with too much time on their hands," well, Holder is so up to his neck in work, he passed on going to St. Louis to cover court proceedings of this asinine NFL lockout like many dedicated NFL reporters, and instead offered his services to cover the non-basketball association finals, a sport that doesn't even have a Tampa Bay franchise! That's like a Browns beat writer for the Cleveland Plain Dealer covering the Stanley Cup Finals!)
Joe understands how Freeman and perhaps his teammates want a modicum of privacy to concentrate on the matters at hand and Joe understands. But with the NFLPA embroiled with NFL owners in this labor hassle, players have to win over close-minded fans who somehow are of the mind that the players are the root cause of this lockout.
Drew Brees, who has been sort of a mentor for Freeman, gets it. Maybe because his name is on the lawsuit against the NFL, but Brees is inviting fans to participate in a Saints workout, per a release from the NFLPA, the Saints are holding a raffle with four winners getting a chance to practice with the Saints. For any winners based away from New Orleans, round-trip airfare and a night at the Ritz-Carlton is included.
How cool is that?
Now Joe isn't suggesting Freeman and his teammates try to pull off something that elaborate. But what Joe thinks would be cool is to have a Fan Fest of their own. Invite fans on a Saturday morning to watch a work out and make it interactive, pull some fans out of the stands (at a local high school field), let a couple of kids toss a ball around with Freeman, or maybe see if some kid can out race Ronde Barber or have a guy challenge E.J. Biggers to defend him catching a pass?
Stuff like that.
Joe not only thinks it would be cool for the fans, but it would be yet another way for the players to bond with their supporters and become part of the Tampa Bay  community.
It would just be one day. It would be go a long way to salve the wounds left by this heinous work stoppage.