Breakout!
June 23rd, 2011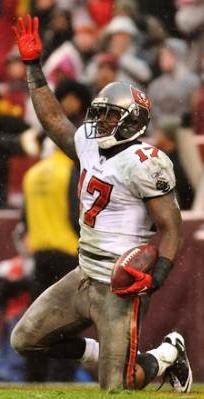 There was a lot to like last year with the Bucs turning around a woeful three-win season and beating the reigning Super Bowl champs on their home turr and then scoreboard watching, hoping to make the playoffs via a tiebreaker.
One thing Joe liked so much was the play of wide receiver Arrelious Benn. Soon after running back LeGarrette Blount began to rumble through opposing defenses, Benn began to shine.
It sickened Joe when Benn went down with a knee injury against Seattle in Week 16.
By all accounts, it seems Benn's knee is fine and he's ready to roll this season — if there is a season.
Greg Gabriel of NationalFootballPost.com seems to be high on Benn as well. He has a list of breakout second-year players this season and lists Benn among those.
Arrelious Benn – Tampa Bay

Benn was drafted to be the big-play wide receiver that the Bucs desperately needed. Tampa Bay got big production from a rookie receiver, but it wasn't Benn — it was fourth- round pick Mike Williams. Benn has great physical tools with both size and speed but was raw and undisciplined coming out of college. Having had a year to learn the offense, he should be more comfortable in the Tampa scheme. If he plays to his potential this year, Tampa is going to have one of the better receiver combos in the NFC South.
Joe totally agrees. Benn was on the verge of blowing up as it was last season. So this all makes sense.
The key element is if Benn's knee can hold up.