Benn, Raheem, Brooks Hit The 620 Airwaves
June 8th, 2011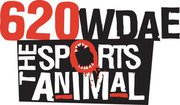 There are many reasons why Joe's friends and business partners over at WDAE-AM 620 have massive ratings. And one of those reasons is the station's fabulous coverage of the Buccaneers.
On that front, today is a special day. Arrelious Benn will join the Ron and Ian Show at 10:15 a.m. And the NFL's youngest head coach sits down in studio with the dean of Tampa Bay sports radio, Steve Duemig, at 5 p.m. With Raheem Morris actually in the studio and a light plate of head coaching duties because of the heinous lockout, theres no telling how long Raheem will talk — or what he might say.
Before Raheem, Bucs icon Derrick Brooks checks in at 4 o'clock for his weekly hourlong segment with Duemig.
Those chained to a computer can listen live at 620WDAE.com.