Barrett Ruud No. 3
June 24th, 2011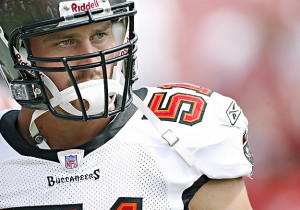 Joe just had to laugh at this, not that he agrees or disagrees with it.
Short of troubled Bucs cornerback Aqib Talib, there is no Bucs player that draws anger and ire out of Bucs fans like Barrett Ruud, while NFL insiders heap praise on the linebacker at the same time.
The laudatory chorus of kudos continued on the Man's Channel, the NFL Network, when former Bucs great and future Hall of Famer Warren Sapp joined former NFLer Brian Baldinger to discuss the most valuable defensive players available on the free agent market for players with four or more years of service.
When discussing his top five players, Baldinger rated Ruud No. 3, behind only cornerback Nnamdi Asomugha and defensive lineman Cullen Jenkins.
"He's the quarterback of the Bucs defense," Baldinger said.
Joe just chuckles. It's near impossible to find an NFL insider who thinks Ruud is the feminine product so many Bucs fans believe him to be. But if Joe were to ask the average Bucs fan on the street about Ruud, the curse words would flow like ice cold beer from a bottle on a hot Friday afternoon.
Speaking of a cold beer on a hot Friday afternoon, Joe hears his siren song.