Barrett Ruud And Brian Urlacher
June 16th, 2011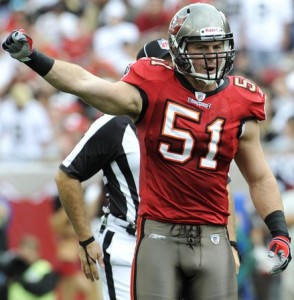 If Joe's heard it once, Joe's heard it a hundred times: Barrett Ruud is an insult to the greats who once wore a jock strap at linebacker. He's weak. He tackles seven yards down field. He couldn't stop a stiff wind. A Tampa Breeze linebacker is more masculine.
But the NFL insiders have a far different opinion of Ruud, the Bucs free agent linebacker. In fact, one NFL insider and former Super Bowl quarterback went so far as to invoke a future Hall of Fame linebacker's name in the same breath as Ruud.
A Broncos fan called "The Blitz" today, heard exclusively on SiriusXM NFL Radio, co-hosted by popular sports radio personality Adam Schein and former NFL quarterback Rich Gannon, and pined for the Broncos to sign Ruud, whenever this asinine lockout is over.
Then, both Schein and Gannon began to wax poetic about Ruud in a way that would make most Bucs fans run for a bottle of 151 rum to chug.
Adam Schein: Rich, if Barrett Ruud hits free agency — I don't mean a pretty good chance, I don't mean an OK chance — I mean there will be a phenomenal chance he will get paid well.

Rich Gannon: If the Browns sign him, I look for them to use him as a Brian Urlacher-type of player in that defense. Barrett Ruud is a high-energy guy and a high-impact guy. He's going to make some money for himself. He is one of the top linebackers available. He has been productive since he first got in the league.

Schein: I don't see our good friends Raheem Morris and Mark Dominik letting him get away. Last year there was a divide as to how much he is worth but at this state with the lockout and a short window to sign free agents, if you let Barrett Ruud go, you can't replace him.

Gannon: No, you don't. You develop a guy to be a perfect fit for what you want to do defensively and you don't reward him? And you lose a significant leader in the locker room? That linebacker corps with Quincy Black and Geno Hayes, that's a pretty stout group. I don't think Mason Foster can fill that hole and get the same kind of production. That is an important position in that defense. He makes all the calls, he gets them all lined up in the right position to make a play. That's a very important role and that's a big hole to fill. Why take a step back when you have made so much progress?
It's beginning to become a chorus from NFL insiders and movers and shakers in the NFL: Letting Ruud walk would be a grave error by Bucs rock star general manager Mark Dominik, despite the Vancouver-like rage in the streets that keeping Ruud may provoke from so many outraged Bucs fans.