Raheem The Seducer
May 19th, 2011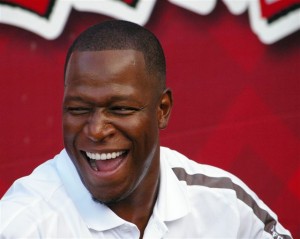 Yes, Joe knows there's a mass of Bucs fans that craves monster money free agent cornerback Nnamdi Asomugha in a Tampa Bay uniform.
Joe doesn't see that happening or that it's necessarily in the Bucs' best interest. However, without knowing all the details of a possible 2011 salary cap, it's hard to make a fully sound judgement.
NFC South blogger Pat Yasinskas is in love with Asomugha when it comes to the Bucs. And he seems to think that Asomugha could easily be mesmerized into signing here by the seductive general Raheem Morris.
The Bucs have one other card up the sleeve: coach Raheem Morris. Put him and Asomugha in a room, and Asomugha may sign a contract within an hour or two. Morris is charming, charismatic and a former defensive backs coach.

This would be a perfect fit for the player and team.
Now that Joe thinks about it, Raheem probably would be a very successful salesman on the free agency circuit. He's seems to have all the skills, plus  a fantastic repuation among players. No doubt he helped close the deal on Derrick Ward, Michael Clayton, and Sean Jones, so he does have a little experience.