MLB, Rays Crack Down On Paradise Good Guys
May 16th, 2011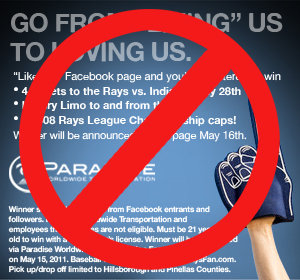 Unfortunately, the long arms of Major League Baseball and the Tampa Bay Rays have reached out to crack down on the great Rays fans at Paradise Worldwide Transportation.
You see, Paradise Worldwide Transportation launched a little promotion on Facebook to give away a roundtrip limo ride to the May 28 Rays game, plus four free Rays tickets and four Rays hats. All you had to do was "Like" their page, and they were going to randomly pick a winner from their Facebook "Likes."
Pretty simple. And very harmless. Paradise bought the Rays tickets.
But Major League Baseball slapped Paradise with fancy legal paperwork demanding the promotion cease immediately. Apparently, only approved partners of MLB and the team can give away or sell tickets.
Remember, Paradise is the same company that – for no profit – runs the No Excuses Tour that has delivered nearly 200 fans to Tropicana Field from Tampa for only $9.95 on a chauffeured luxury bus.
Also, Paradise was a Rays luxury suite holder in 2008, 2009 and 2010. How dare they threaten the success of MLB and the Rays by giving away four tickets!!
Paradise is complying and no longer giving away the free Rays tickets. However, the limo ride giveaway remains in effect. The winner will be announced in a matter of hours. So you can still Like their page now.
What a shame.