Mason Foster "Moves Men"
May 4th, 2011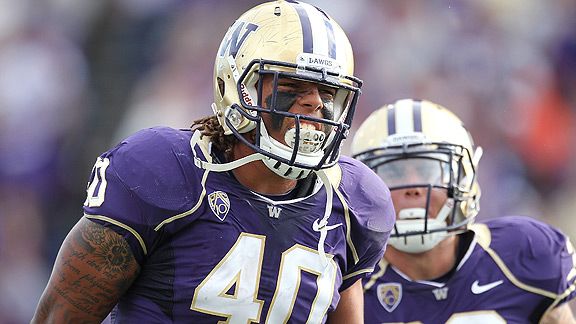 Shedding blocks is a great quality for a linebacker, especially important for the men that patrol the middle of a defense.
Bucs third-round pick Mason Foster is one of those guys, so Raheem Morris passionately told J.P. Peterson of WQYK-AM 1010 yesterday.
The head coach/defensive mastermind seems like he can't wait to use his new toy.
Raheem Morris On Foster: Seeing him live at the Senior Bowl and to see how he brought his attitude and demeanor to practice. And then you translate it over to game tape, when you go back and you watch more tape on the young man, and you see how physical he is with his hands, how well he moves men, how well he's able to come off the edge, how you're able to vary some of the positions the he can play, and play him in multiple positions. … He was asked to do different things in games, rush off edges, fill a hole, spill a player, and just be active as he can be. And that was the thing that really drew us to Mason Foster, especially because of where we're at as a league right now. We don't know who's going to be a free agent. We don't know who's going to be [a] restricted [free agent]. And to have a guy that you can fill in at the spot that you don't get via free agency, that really makes a great deal for us.
Foster seems like a super smart pick for the Bucs. If the guy really is this versatile at the NFL level — big question —  he'll be valuable in the league an awfully long time.