"I Kind Of Feel Like It Never Happened"
May 25th, 2011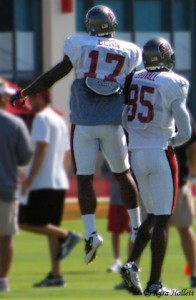 Josh Freeman passed out directions to another clandestine Bucs informal workout yesterday to Stephen Holder of the St. Pete Times.
Nothing much new and exciting to report by Holder, other than Luke Stocker's appearance and an admission by Arrelious Benn that he doesn't feel injured despite ripping apart his ACL in December.
"I'm new to the knee injury thing, but for the most part, I didn't think that I'd be back this fast," Benn said. "I kind of feel like it never happened. But I have to be smart. I still have things coming back together in my knee. I might not feel it, but I'm young right now, so I heal fast."
Holder paints a picture of Benn running routes and catching balls. Joe wonders whether Benn's ahead of schedule, in part, because he's not under the cautious eye of Bucs doctors.