Donald Penn Peeved At NFL Network List
May 13th, 2011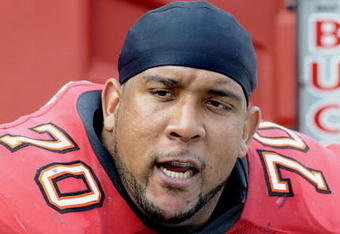 The NFL Network — which we all know every real man has wired to his flatscreen 52-inch HD TV at home — this past week ran a Top 100 list of current NFL players, as voted by the players themselves.
It was a mild surprise that Bucs wide receiver Mike Williams made the cut. It was not a surprise that Bucs quarterback Josh Freeman was included.
It was very much a surprise that Bucs left tackle Donald Penn was not among the same elite group.
While Penn is happy that his offensive teammates made the list, Penn is one hacked off man over omission, so writes video star Anwar Richardson of the Tampa Tribune.
I'm going to make a lot of (general managers) mad this year. I've got a big ol' chip on my shoulder for not making the top 100," Penn said. "My biggest thing is at the end of my career, I want to be mentioned with the great left tackles. At the end of my career, I want to be mentioned with Derrick Brooks, Ronde Barber and John Lynch in Buccaneer history. That's all I want.

"My peers know. Well, I guess my peers don't know because they are the ones that voted. It's motivation. I love it."
Joe can't really blame Penn and Joe hopes Penn is so fired up about the snub that he locks up every right defensive end who so much as looks at Penn this season (if there is a season).
The funny thing about this article was that Richardson pointed out Penn plays in two basketball rec leagues to try to keep the weight off. But as big as Penn is, he's trying to become a power guard. He won't mix it up in the paint because, Richardson writes, Penn is scared of getting hurt.
That doesn't sound much like a growling, drooling, fire-breathing left tackle, does it?