Dominik's Top-4 Of 2011
May 6th, 2011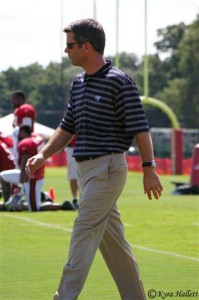 For you NFL Draft junkies that can't ever get enough draft chatter, Joe has a new nugget for you.
Mark Dominik served up a glimpse at his pre-draft assessments during a recent national interview with former Hubert Mizell radio sidekick turned BSPN Radio host Colin Cowherd. Joe winced when he heard Dominik's praise of newest Falcons wide receiver Julio Jones.
Colin Cowherd: Who was the best player in the draft? Who had your highest grade?

Mark Dominik: That's a tough one. … We were big fans obviously of Von Miller and his pash rush ability. Certainly a huge fan of Patrick Peterson and his playmaking and his cover skills, and then the receivers. The nice thing about those four players, with Julio [Jones] and A.J. [Green] , is all those were quality kids off the field, too. You know, all four of those guys, you just felt like you could just take and put them in your locker room and you're really proud of them.
Joe sincerely hopes Jones doesn't have a rookie season like Mike Williams did.