A Quick Thank You
May 12th, 2011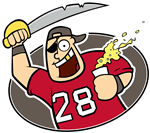 Joe's just checking in for a big virtual high-five to his readers.
Traffic on JoeBucsFan.com in May is off to its best start of any month ever. Who says fans don't care during a lockout?
Joe is humbled. And Joe is re-invigorated to keep delivering 24/7 Buccaneers news and commentary like no other mortals or ancient news delivery services.
What's most impressive to Joe is that the typical JoeBucsFan.com reader now stays on the site about nine minutes per visit, which is extraordinary high in the industry. And Joe doesn't even have his message boards padding his traffic stats. They're owned by the good guys at WDAE-AM 620. 
Thanks again to the many tens of thousands of you that care enough about the Bucs to obsess about the team here once in a while with Joe. It's a lot of work and a lot of fun.