Will 2010 Class Sniff The All-Time Greats?
April 9th, 2011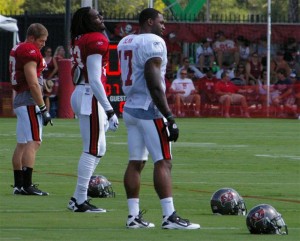 Now just 20 days separate the Bucs from their newest first-round pick. With that in mind, NFL.com reporter Albert Breer dialed up rockstar general manager Mark Dominik to talk about the greatness of his 2010 rookies.
Apparently, Breer found Dominik oozing with confidence.
"I remember Tony Dungy's team, back in 1997, when we got off to a 5-0 start and Sports Illustrated said, 'Break Up The Bucs,'" said 39-year-old general manager Mark Dominik, who was in his third year as a Tampa personnel assistant back then. "More than that, at that time, there was a lot of internal belief in what we were doing. I think that's the spot we're at again. That's the most encouraging thing to me."
As Dominik has talked about previously, the Bucs' core draft beliefs center heavily around players who were team captains and love everything and anything about football.
And, of course, Dominik has proven he can hunt in the difficult seventh round and among dicey undrafted players like a dominant pelican diving for fish.
But Joe's of the mind that the 2010 class has a ways to go before reaching superstud status. Four of the Bucs first five picks outside of Mike Williams have an awful lot to prove.
Joe would be more than satisfied if just one of the defensive tackles, Gerald McCoy or Brian Price, turns out to be above average against the run and a force versus the pass.