Two Draft-day Videos
April 30th, 2011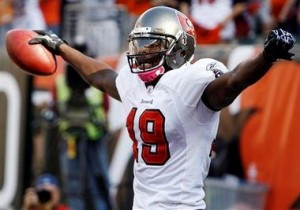 Joe's absolutely loving all this real football chatter during draft week. Joe is fired up for the season.
Here are links to videos Joe just watched to help you get fired up, too, as if you need it.
1) The "Top 100 Players of 2011" series kicks off tonight on the real-man channel: NFL Network. Here's the preview of Mike Williams, who checks in at No. 83. If you don't get chills, seek medical attention.
2) THE OPTIMIST, who runs the fabulous BucStop.com, has unearthed video of the 1981 draft from ESPN, when it was about sports and not shtick. It's a great old school look at the NFL. Joe confesses his parents didn't have cable TV when the '81 draft aired. Joe was probably hoping Pete Rose was playing on the NBC Game of the Week.
Enjoy.