"The First Exit On The Highway Of Excuses"
April 19th, 2011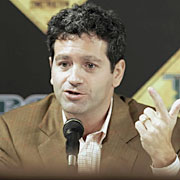 Local sports fans have heard all the reasons/excuses from Tampa Bay Rays and Tampa Bay Buccaneers management that allegedly explain why those teams can't sell more tickets.
The list is easy for any local to rattle off. Frankly, they've never sat well with Joe.
Joe thinks those organizations are far too focused on external factors affecting them versus internal systems and philosphies that drive the business success. As Joe wrote last week after word broke of the Bucs game in England, it didn't feel right to Joe that the Bucs already seemed resigned to blackouts in 2011 — in April. 
Through most of 2007-2010, Joe worked in sales for a national company whose business was directly tied to — and negatively affected by — the plummeting real estate market nationwide. However, the company philosophy in its high-pressure sales environment was simple; massive sales growth would be achieved because the alternative was not an option.
The goals were reached, while competitors crumbled and the real estate market further tanked to record levels. 
In the face of a challenging business environment, there are always winners, just fewer of them. Why can't the Bucs or Rays overcome, or at least perform much better?
Last night, former Seattle Seahawks and current Tampa Bay Lightning CEO Todd Leiweke took to the airwaves for an interview with JP Peterson on 1010 AM.
Leiweke painted a picture of Tampa Bay currently being an excellent market for professional sports and entertainment. He referenced sellouts at the St. Pete Times Forum on Saturday, Sunday and Monday for Lady Gaga, Iron Maiden and the Lightning, respectively. "We're the fifth or sixth busiest arena [in the country]," he said.
Peterson pushed Leiweke to talk about the Tampa Bay market for sports teams and contrast it with his tenure in Seattle.
Leiweke said blaming fans and market conditions is "the first exit on the highway of excuses."
He went on to talk about a season ticket base of "about 33,000" when he joined the Seahawks in 2003, during far better economic times. When Leiweke left Seattle in 2010 to join the Lightning, the Seahawks (fresh off two losing seasons) were raising ticket prices, had sold their maximum of 61,000 allocated season tickets, and had a waiting list of 10,000, per The Seattle Times.
Leiweke went on to say he expects the Lightning, whose attendance is up about 12 percent from last season, to enjoy sellouts throughout next season.
Interesting.
Joe thinks it's time the Rays and Bucs change their public attitude on attendance and crank up the heat and scrutiny inside their organizations. It sure couldn't hurt.
A rough local economy can do a lot of things, but it can't stifle marketing creativity, first-rate customer service, a healthy attitude and good old fashioned hustle, especially from wildly profitible enterprises like the Bucs and Rays.