Talib Likes The Falcons' Pick
April 28th, 2011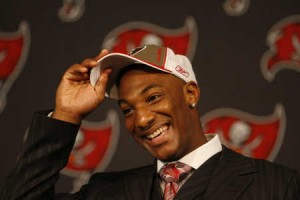 Whoa, the hated Falcons just pulled off a stunner, trading four picks including two No. 1 picks to Cleveland for the 2011 No. 6 overall pick. Then the Falcons grabbed stud wide receiver Julio Jones.
Hmmmmm, Roddy White and Julio Jones will face the Bucs twice a year. It sure would be nice for the Bucs to have a talent like Aqib Talib to cover one of those guys.
Mark Dominik did say the Bucs can never have enough cornerbacks, but Joe suspects Talib is smiling somehere about now as his odds of remaining a Buccaneer might have improved.