Quincy Black Is A "Secret Superstar"
April 11th, 2011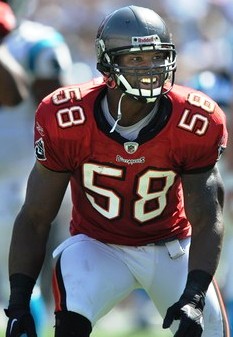 Now Joe knows Bucs fans slam their half-full bottles of beer on the table in absolute disgust over the play of the Bucs linebackers.
The posterchild for many Bucs fans' angst is of course Barrett Ruud. In short, fans want Ruud to be what he cann't nor will never be, no matter that he very could be the most important cog in the Bucs defense, maybe more valuable than troubled Aqib Talib.
Another linebacker Bucs fans grumble about is outside linebacker Quincy Black. Pretty much handed a starting job last year, Black, with the naked eye, doesn't seem to make too many plays for a starting NFL linebacker.
Nathan Jahnke of ProFootballFocus.com strongly disagrees. He believes Black will be the next Bucs linebacker superstar since Derrick Brooks was jettisoned.
His contract has expired, but it would make sense for the Buccaneers to make a serious run at keeping him in town. Black was one of only three 4-3 outside linebackers with positive ratings in run stopping, pass rush, pass coverage and penalties this season; James Anderson and Keith Bulluck being the other two.

Tampa was hit hard by injuries this past season, but with everyone healthy in 2011, they'll have a lot of important pieces in place. Stylez White and Gerald McCoy looked good as pass rushers, Geno Hayes is a solid weak side linebacker (at least on pass downs,) and Ronde Barber and Aqib Talib (baring legal problems) are a good tandem at cornerback.

The emergence of Quincy Black in 2010 was a big part of the Buccaneers defensive success, and if they are able to bring him back, he'll be part of a defense that continues to rise. If he leaves Tampa Bay, he'll boost a 4-3 defense elsewhere.
Joe wonders if this Jahnke character works for Black's agent. Now Joe knows this is just one play, but last year against the Rams running back Steven Jackson was running up the middle. There was a massive hole opened by the Rams offensive line.
But just beyond the hole was Black. The Bucs linebacker stood in his tracks, waiting for Jackson to come to him rather than firing and plugging the hole. Jackson, perhaps the most underrated running back in the NFL, ran a complete half-circle to Black's left, absolutely running around Black who never laid a finger on Jackson.
It was both a beautiful play by Jackson and a bad play by Black. NFL running backs are not going to come to you. Plug the hole!
If Bucs rock star general manager Mark Dominik — who knew a lockout was brewing — didn't feel the urge to sign Black (yet), maybe that's a sign that Black isn't quite as talented as Jahnke would lead people to believe.