Might Bucs Execute A Quick Signing, Trade?
April 5th, 2011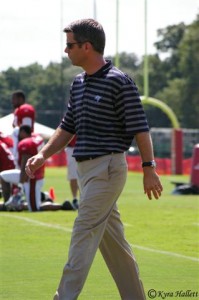 A player deal in the NFL probably takes just a few minutes to make official, especially when there could have been weeks of advance negotiations.
Sure, there's a lockout in place, but that doesn't stop teams from at least talking to each other about trades, or talking to player agents.
The NFL and its players are back in court tomorrow, and there's a shot the lockout would be lifted in a matter of days after being deemed unlawful.
However, per a story today by Jonathan Tamari in the Philly Inquirer, the NFL would request an immediate stay on the ruling and appeal. But if that stay was not granted immediately, player transactions could be slammed through before the window was closed by the court.
The federal court hearing Wednesday won't provide a final resolution, but Judge Susan Richard Nelson's decision would leave the first imprint on a case that could greatly tip the scales in negotiations.

And her decision could open the door to player movement, even if briefly.

The players are seeking an injunction to lift the NFL lockout and force the league to resume business. This could be critical to the Eagles, who would benefit from a chance to trade backup quarterback Kevin Kolb before the draft that begins on April 28. NFL owners, though are arguing on several grounds that their lockout should remain in place, which would keep a freeze on player movement. … A decision isn't expected until next week or later.
Joe wonders whether rock star Mark Dominik might have a trade cooked up. Maybe a second-round pick for an established young talent — a Kellen Winslow-type deal? Has he found a sucker suitor for Aqib Talib? Perhaps a take-it-or-leave-it-offer for Barrett Ruud?
Joe has no doubt that if the lockout is lifted for even 24 hours, that some NFL teams will be active. Surely, there's a plan in the vault at One Buc Palace.