Mark Dominik Speaks
April 11th, 2011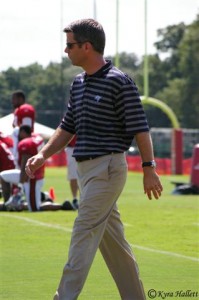 With a fresh contract through the 2015 season, Bucs rockstar general manager Mark Dominik was in a chatty mood today on The Ron and Ian Show, on WDAE-AM 620,  broadcasting from the Chris Thomas Memorial Golf Tournament in Clearwater.
Dominik explained that Bucs coaches and scouts are all flying in to Tampa tonight, to get together for "10 to 12 days" to finalize every angle as it relates to the NFL Draft.
Also, Dominik said the Bucs can talk to their 2011 draft picks only until the draft ends, assuming the NFL lockout remains in force at that time. "Once the last selection is made, you can't speak to any rookies anymore." But, as has been widely reported, Dominik said draftees can be flown to Tampa for a traditional meet-the-player press conference before the player will have to leave the Bucs' facility.  
And for those holding out hope the Bucs might throw fists of cash at Nnamdi Asomugha or another big-name free agent, Dominik dumped a bucket of cold Gatorade on that notion.
"I think we're going to stay with the plan we started two years ago, and that's trying to build this thing really through the draft. If there's a piece of the puzzle that makes a lot of sense from outside the organization, we'll certainly give it a shot and see if it works out for us. But the bottom line is when you go back and you look at certainly the Green Bay Packers and what they just accomplished and how they did it, they did it all internally and they barely touched free agency. And we want to be that type of a drafting team that takes advantage of that second draft also, and go find the Ted Larsens that can fill in the holes for us and use free agency that way."
Joe wonders whether Dominik's contract extension makes him more or less likely to partake in free agency. Perhaps it has no bearing at all.