LeGarrette Blount's Success A "Myth"
April 6th, 2011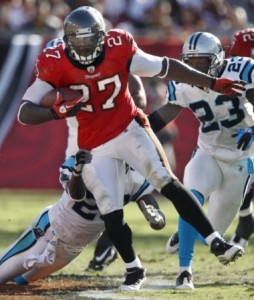 If one had to rank the top two Bucs from the 2011 season, Josh Freeman is easily No. 1.
One would not look like a fool picking LeGarrette Blount No. 2.
Think about the Bucs offense before Bucs rock star general manager Mark Dominik snatched Blount off waivers and he got in the lineup: The rushing attack was as stagnant as a moss-covered Midwestern pond. The passing attack was simply average.
It is no coincidence that when Blount was given plenty of touches, the offense blew up, beginning with the Arizona game. All of a sudden, defenses, which completely ignored the Bucs running game and focused solely on shutting down the pass, now had to change tactics which opened up the pass as evidenced by Arrelious Benn's blooming.
But Andy Benoit doesn't see it that way. Blogging for the New York Times, he pored over tape of Blount from last season and has determined that Blount's Pro Bowl-like rushing was, well, mythological.
Myth Buster
LeGarrette Blount is a budding star
Character wasn't the only reason Blount went undrafted. And there's a reason the Titans cut him after training camp. Blount has little speed and struggles to change directions. That's fine for a power runner. But Blount's not a power runner. He's just a runner who happens to weigh 250 pounds. To his credit, Blount broke a lot of tackles in 2010 (it was amazing the way defenders would slowly trickle off of him). But far too often he left yards on the field by bracing for contact or not pressing his holes. And he couldn't be counted on in the passing game or short-yardage situations. It will be difficult for Blount to carve out a long-term niche in the N.F.L.
Well, let's be honest here: Just what running back can be counted on to provide a long-term niche in the NFL? Running backs are a dime a dozen and one reason for that is the brutal punishment they take.
Joe watched the games just like Benoit. If Benoit couldn't see the difference in the Bucs offense once Blount got rolling — it wasn't as if defenses ignored Blount — then Joe might offer his own glasses to Benoit.
Joe believes Blount is sort of a hybrid: Not cat-like quick yet not an overpowering bruiser either. Just a little of both.
Joe wonders what Lawyer Milloy thinks of all of this?