"Just A Third-Down Player?"
April 29th, 2011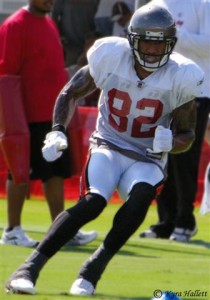 He's got 143 catches over two seasons and hasn't missed a game, but Kellen Winslow's chronic knee issues and suspect blocking are a serious concern, so says Bucs beat writer Woody Cummings of  The Tampa Tribune.
During an interview on The Fabulous Sports Babe Show on 1040 AM yesterday, Cummings said he believes the Bucs may view Winslow now as "just a third down player."
Cummings says the Bucs would love to draft a tight end, especially considering Jerramy Stevens fishbowled his way out of the league and John Gilmore is a free agent turning 32.
Prospects Kyle Rudolph, Luke Stocker and Lance Kendricks are still out there for the Bucs on Day 2.
Joe thinks it would be a serious blow for the Bucs if Winslow's role is limited. Joe can't even count the number of times he's heard Bucs opponents before and after games talk about how their teams game-planned to stop Winlsow. Him just being out there helps open up the offense.