Josh Freeman No. 1
April 10th, 2011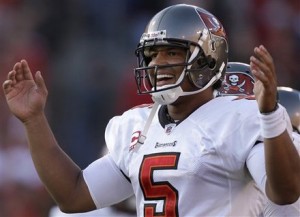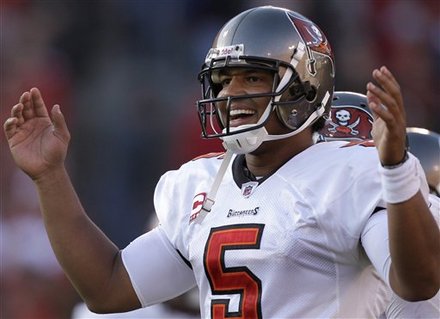 This is a perfect example of how NFL news, sans draft talk and the boring beyond words lockout chatter (please, someone, anyone, feel free to explain what has changed after the countless number of hours spent on talk radio and the countless hours spoken on NFL Network and the countless hundreds of thousands words typed about the lockout since talks broke down in March? Not one friggin' thing. Both sides are no closer to an agreement than they were when the NFLPA decertified), NFL news has ground to an absolute halt with the exception of player scrapes with the law.
So eye-RAH! Kaufman of the Tampa Tribune put fingers to keyboard and decided to select the top "dozen emerging stars" of the NFL. Not surprisingly, Kaufman includes josh Freeman and has him atop the list.
Josh Freeman, QB, Buccaneers
For perhaps the first time in franchise history, Tampa Bay boasts the most valuable commodity in pro football. Freeman, 23, rarely lost his composure while throwing 25 TD passes and only six interceptions in his first full year as a starter. He could be an NFC Pro Bowl fixture as early as next season and opposing coaches rave about Freeman's leadership skills.
Not surprising at all but Joe was a bit shocked to see Rams quarterback Sam Bradford off the list. Joe believes this guy is going to be a superstar. He put up amazing numbers as a rookie, damn near got that garbage team into the playoffs and the guy has nothing but a bunch of stiffs to throw to, glorified arena ball players.
Joe wonders if Mike Williams could have also been included on the eye-RAH! list. He wasn't, but Jamaal Charles was.