Jaws: Josh Freeman = Peyton Manning
April 12th, 2011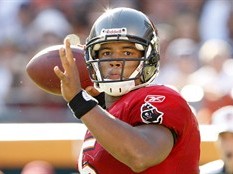 Joe is split when it comes to the BSPN Monday Night Football crew.
Joe thinks Mike "Moving Forward" Tirico is OK, nothing more. For some reason Joe loved it when he called college games. NFL? He's OK.
Chucky? Pppfffttt. The guy is so full of it his eyes are brown. Everybody's great. Everybody's an All Pro. Just stop it Chucky, stop it. Chucky's slobbering over everyone and everything actually forces Joe to find a watering hole that is noisy thus, he can't hear the audio.
Now Jaws is a whole different story. Ron Jaworski is damned good and the only one who comes close to Jaws in Joe's eyes as an NFL game analyst is Mike Mayock. Jaws is a true student of the game. He speaks to football fans, not some Long Island yenta or Nebraska hausfrau. Football fans crave inside information and X's and O's and Jaws delivers time and again.
So when Jaws says something, Joe takes notice. In speaking with eye-RAH! Kaufman of the Tampa Tribune, Jaws says that Josh Freeman reminds him of a veteran Peyton Manning.
"I see all the great throws, but the job I have working out of NFL Films allows me to hear when these players are miked for a game," said former NFL quarterback Ron Jaworski. "I listen. You can't get that on a broadcast. You can't be in the huddle with the guy and see how he commands the offense. The beautiful thing is that when Freeman's in the huddle in crunch time with the Bucs trailing, you would have thought his team was ahead by 10 points. There's a calm demeanor, which really shows his teammates that he was confident they would get the job done together.

"When you hear Freeman make the changes in protection, direct receivers on what routes to run … those are things Peyton Manning was doing in Years 6 and 7. He's doing it in Year 2. He does a really good job of looking his teammates in the eye. That might sound like minutiae, but I've watched Drew Brees very closely over the years and he likes to get down on one knee and look up at his guys eye-to-eye. It's all in the little things that separate average quarterbacks from great ones and I think Josh Freeman is clearly on the track to being a great one."
Wow, that's high praise. Virtually anyone who would compare Freeman to Manning as an established quarterback Joe would dismiss almost right away. Not from Jaws.
Joe has to wonder if one reason Jaws is waxing poetic because there is a chance the Bucs will be on Monday Night Football? The schedules will be out shortly, likely before the NFL draft.