"He Could Go Off The Deep End"
April 14th, 2011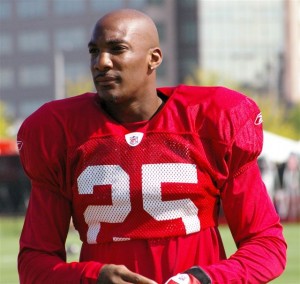 Who knew Ron Jaworski was a shrink? Maybe all that crying by Dick Vermeil inspired him.
Or maybe "Jaws" stayed at a Holiday Inn Express during his recent Tampa visit.
Regardless, Jaws is deeply concerned about Aqib Talib and thinks the Bucs need to show him extra love and care, so he told esteemed NFL writer eye-RAH Kaufman of The Tampa Tribune
Among other things, Jaws said Raheem Morris needs to give Talib more support.
"I think if you give up on a guy like this, and this is the human side of this situation, Talib could be worse off," said Jaworski, in Tampa Bay recently for an ESPN shoot. "He could go off the deep end if he doesn't have football, if he doesn't have structure in his life."
Of course, Joe agrees that Talib is close to the "deep end" and seems to swim in it quite a bit.
But Joe thinks Jaws is out of his mind. What the hell are the Bucs supposed to do, pay bodyguards to shadow Talib 24/7? And would that really help anyway?
Talib hit a teammate with a deadly weapon with Buccaneers within reach. He pummeled a cabbie with Buccaneers at arms length. He went after an official with Buccaneers around.  And he launched a profanity tirade at his head coach in England.
Sure, with this latest episode of Talib allegedly playing cowboy vigilante in Texas, maybe a bodyguard would have served him well. But the point is Talib must exercise some discipline and get himself full-time counseling, if he doesn't have it already.
The Bucs can't be expected to have his back any more than they already have.