Give Him The Damned Ball!
April 7th, 2011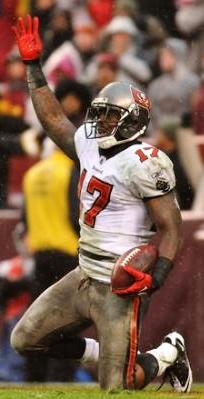 Joe has made little secret of his affinity for Bucs wide receiver Arrelious Benn.
Despite the haters who labeled Benn a bust before training camp was finished, Joe knew it would take time for Benn to come around. Despite being drafted higher than heralded rookie Mike Williams, Benn played in one of those damned junk, gimmick, high schoolish spread-options offenses which made Joe chuckle every time he heard Bobby Bowden refer to that offense as a wishbone.
To Foghorn Leghorn's credit, the spread-option was about as close to an NFL offense as a wishbone offense.
It took nearly a third of the season but when Benn began to show up, it was a thing of beauty. Not surprisingly, when Benn played well, the Bucs offense clicked, which is one reason Joe was sick to his stomach when Benn went down against the Dixie Chicks at The CITS.
Well, it seems someone else caught Benn's eye too. The football thinktank known as FootballFocus.com has come out and said it in a headline: Give Benn the damned ball.
Give This Guy More Snaps: WR Arrelious Benn
As if hitting a jackpot with Mike Williams wasn't enough, Tampa has another guy coming through at the receiver ranks. Benn didn't just make plays when he was thrown to, if you watched him when they ran you could see an extremely aggressive run blocker. It was peculiar that as a starter he didn't see the field in nickel situations, but an increased role should see him expand on the 37 targets and 25 receptions he hauled in.
Joe will write it again: When Benn shines, the Bucs offense clicked.
Damn, Joe hopes Benn bounces back from that knee injury. With him in the game, Joe's not so sure the Bucs have ever had such an explosive offense along with LeGarrette Blount, Kellen Winslow, of course Josh Freeman and Williams.